Manual Lymph drainage:
Lymph system/function -how can this help you?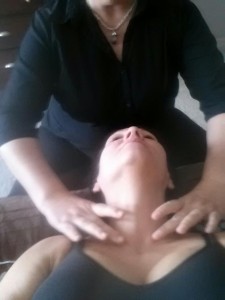 Manual Lymph Drainage helps the lymphatic system, which is part of the circulatory system.  Lymphatic is a secondary pathway to the heart and parallel to the venous system.  Therefore moves fluids through the body, then returns it to the circulatory system. The lymphatic circulation has a slow rhythm, as compared with the blood circulation.  The lymph system is the body's waste disposal. It clears away bacteria, cell debris, excess water, proteins and wastes from the connective tissue. Then returns it to the bloodstream for ultimate removal by the kidneys.  The function of the lymphatic system is to collect protein, molecules and pathogens that are too large to return to the blood.  These proteins and molecules are transported, then filtered through the lymph nodes. Acting as purification center, then rejoin the blood near the junction of the subclavian and jugular veins.  The purification of the lymphatic system is very important.
Manual Lymph Drainage is a type of  massage based on preliminary evidence, which is hypothesized to encourage the natural drainage of the lymph. Which carries waste products away from the tissues back toward the heart. The lymphatic system is what helps get infection out of the body,  also excess water retention in the body is retained.
Benefits from Manual Lymph Drainage:  Weight loss (inches from fluid retention), boosting the immune system before surgery, helps with healing after surgery (check with your physician first),  and lymph edema. Manual lymph drainage uses a specific amount of pressure (less than 9 ounces of pressure) and rhythmic movements to stimulate lymph flow.  If there is sluggishness to the lymph system manual lymph drainage can be beneficial. The flow of the lymph system moves in the same direction of the blood.  Manual lymph drainage is very relaxing, and will cause you to urinate more frequently that day.